coco & igor
The century's greatest composer living with its most celebrated couturière and perfumer. Who would have guessed it back then? Who would believe it now?
By turns passionate and playful, Coco & Igor celebrates two figures who lived intriguingly parallel lives, and charts a relationship that endures as a luminous trace across the twentieth century.
Original UK edition
Headline Review 2002
US edition
Riverhead, Penguin 2009
Read the opening chapter
of Coco & Igor
Reviews
Observer Guardian Telegraph Washington Times
'A fine, entrancingly poetic novel.'

Peter Conrad, Observer

'Brilliantly rehearses the dynamics of a doomed relationship.'

Alfred Hickling, Guardian

'Brilliantly conveys the atmosphere of tension and sultry passion.'

Sunday Telegraph

'An intense account... period detail drips off the page.'

Sydney Morning Herald

'Extraordinary... the author's descriptive powers are vivid.'

Midweek
Translations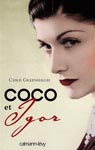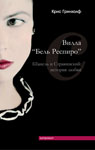 Coco & Igor has been translated into many languages including Bulgarian, Czech, French (left), German, Greek, Japanese, Korean, Mandarin, Polish, Portuguese, Russian (right), Taiwanese and Turkish.